Lexbox folders are a great place to keep track of your research, but there may come a time when you get caught up in a complex search query and forget to save a document, or didn't realize you needed it until later.
The Lexbox Recent History feature can help you backtrack your research activity so that you can access those documents you may have discarded. The Recent History feature was designed for legal researchers to look for a search they performed, or a document they visited, and review it again.
You can use the Lexbox search history feature to:
Find a discarded search result.
Reload a complex search query that was not saved into one of your folders.
Track time spent on supported websites for billing purposes.
Keep in mind that you have the full control over the recording of your Recent History:
The tracking of your Recent History can be enabled or disabled from your Lexbox profile. It is enabled by default.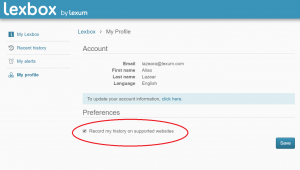 Lexbox records your history for up to 30 days. You can delete all the items recorded in your Recent History, or individual items, at any time.