Many organizations have gathered significant collections of arbitration awards, tribunal decisions, court decisions and various other precedents pertaining to their field of activity. It could be law firms or various quasi-legal structures, trade associations, trade unions or advocacy groups. The documents they amassed often have a high value at least for them as they contain the basic information material for their trade. These ensembles, built that way, cannot be readily found outside their organization.
Often, people feel that these resources could be so much more useful if only there were tools to transform the whole mess of documents of that file cabinet or on that shared drive in an efficient research tool. Especially, at the time when everything becomes digital, a diminishing number of us care to leave their desks and go rummaging through the "O" drive or even worst, in that beige filing cabinet down the hall.
Should one throw the towel right away and dump the whole bunch of documents next to the recycling dumpster or, if indeed the collection has value, try finding a way to recuperate the value of this material. Lexum contribution becomes relevant in the second situation.
Overtime, the Ministère de l'Éducation du Québec, du Loisir et du Sport (MELS) built an extensive collection of arbitration awards and tribunal decisions in labor law counting over 25,000 documents. The ongoing project used to recover parts of its costs by getting contributions from employees' unions and employers associations. In 2014, the software used to make the collections accessible to the larger set of stakeholders was obsolete and was offering very limited searching capabilities. Once the decision was taken to maintain a resource so important to ensure the smooth continuation of labor relations, Lexum's Decisia technology was selected to establish the next generation system. Lexum provided Decisia but also expert advice and editorial staff time to migrate the legacy system. Less than two months passed between the contract signing and delivery of the operating system.
In a different venture, the Canadian Insurance Services Regulatory Organization (CISRO) wanted to serve its stakeholders by sharing a common set of documents required to ensure the conformance of the industry. Most of the documents are recent and can be found on the web, but they are scattered all over the place and for that reason, required to be grouped and organized in a logical manner. Lexum's Decisia was used to create a web resource accessible to all stakeholders involved and accounts are self-managed by the trade association. The time from contract to delivery was six weeks.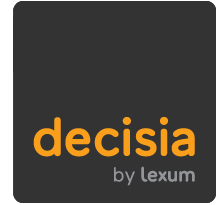 Lexum's Decisia is a specialized software accessible through the cloud to serve a large variety of needs in relation with publishing, accessing and searching collections of decisions and similar documents. Chosen by the most prestigious judicial organizations to publish their judgments, Decisia can be trusted with your private collection of decision-like assets.
Lexum has designed and implemented over a hundred legal information systems over the last twenty years, among them the most used legal research system in Canada, CanLII. Its specialists, computer engineers, documents specialists and lawyers know the legal needs. It's their field of expertise.
Lexum own staff and off-shore partners can tackle any legal publishing project from end-to-end, from the stapled documents in the cabinets to the delivery of a world-class cloud-based information system.
Lexum offer is risk-free and it can be delivered in weeks.