We are excited to let you know that CanLII recently announced that Lexbox would now be available to all of its users directly from the CanLII website. This means that all of the features of Lexbox are now available on CanLII without requiring the installation of the Chrome browser extension. It thus becomes possible to use Lexbox on CanLII with any browser.
Some of you may already have noticed that the Lexbox application and buttons now systematically appear in CanLII search results pages and documents: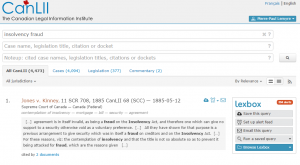 This integration makes it easier for all CanLII users to:
Save search queries
Set up alerts for new content matching a search
Create folders with saved results
See a trail of their research
This change does not affect CanLII functionality for those who just want to research the way they have until now, and account creation is not required to do anything on the CanLII.org.  Also, those of you with a Lexbox account can continue to use it as before.  Similarly, the Lexbox Chrome extension can continue to be used on the other supported websites.
Lexum is proud that CanLII opted for Lexbox to enable its users to save searches and results on its website.  Make sure to stay connected with us to follow upcoming announcements about Lexbox!