Legal research is more then ever carried out through free websites and accessed via a variety of online digital content. For instance the most used legal research website in Canada is CanLII, operated by Lexum on behalf of the Federation of Law Societies of Canada. Lexbox is designed to help you leverage CanLII and other free websites by enabling you to organize the results of all your research from one place. It helps to think of Lexbox as your online legal research workspace.
Using Lexbox for large volume legal research is easy. Lexbox allows users to save search queries, set up alerts for new content, create folders with saved results and see a trail of your research activities. It works directly from CanLII, and supports a host of websites. But installing the free Lexbox Google Chrome extension offers the best opportunity to improve the way you are doing legal research.
Using Lexbox maximizes your time spent on legal research, especially when the research results come from a variety of online sources. Here are a few tips for using Lexbox to carry out efficient and effective legal research.
How to Save any Webpage to your Lexbox Account
Carrying out digital research inevitably means using sources not typically found in case-law databases and keeping track of digital content presents a challenge. Legal professionals now regularly cite to websites, digital news sites, blogs and social media postings. The Lexbox Google Chrome extension allows you to save any webpage to your Lexbox research workspace. To install the Lexbox extension go to the Chrome Web Store, and click on the "Add to Chrome" big blue button in the top right corner of the page. Once installed a blue "L" icon will appear at the right of your Chrome browser navigation bar. If you haven't yet, go here to set up a Lexbox account.
To save a website, go to the site that you want to save and click on the Lexbox extension icon. A box will pop up and the first option reads "Save this page to Lexbox".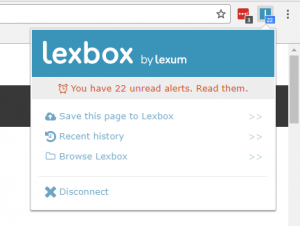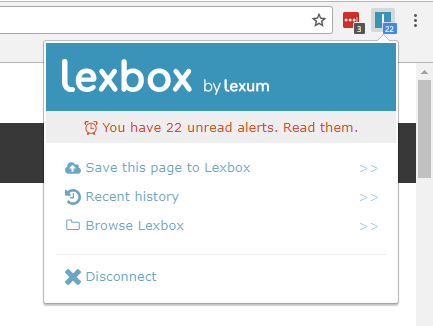 Clicking this link enables you to chose the Lexbox research folder where you would like to save this webpage or create a new research folder. The website is now saved and appears in your Lexbox account.

How to Create an Alert for Specific Legislation
Lexbox allows you to set up alerts in order to monitor a specific piece of legislation.
From the CanLII website you will have identified the legislation that you want to monitor. If you go to the page of that legislation, Lexbox provides you with a number of options for saving and monitoring the legislation.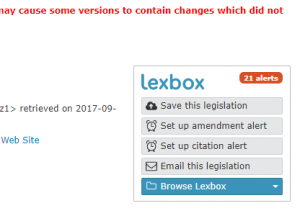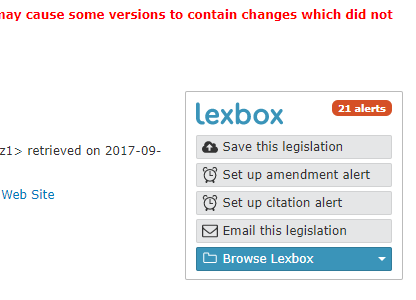 First, you can either save the legislation directly to your Lexbox, or email it to a third party.
Second, to monitor any future developments with this legislation, Lexbox gives you the option to either "Set up amendment alert" or "Set up citation alert". By selecting the first option you will be alerted should there be any changes to the legislation (by a new version coming into force for example). The second option will alert you should there be any case-law published on CanLII referring to the legislation. These two options are also available directly from the CanLII search results pages via the "alarm clock" icon.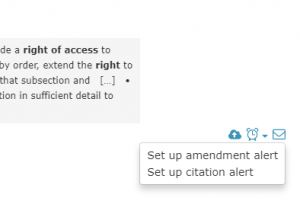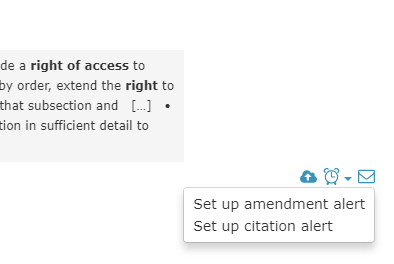 When setting up an alert you may wish to be notified only through your Lexbox account, or may prefer to receive notifications by email (daily or weekly). If you have the Lexbox extension installed you will also be notified right in your browser via the extension icon.
Creating alerts for specific legislation ensure that your research is kept up to date, this is particularly useful if you are working in a quickly changing area of law.
How to Generate a List of Authorities
Lexbox enables you to generate a properly formatted list of authorities from the content of any of your research folders. This can be done with the click of a button. Generating a list of authorities means that your research will be fully referenced and you will not miss-place or leave behind any item from your research trail. A list of authorities can quickly be created to append to briefs included in court filings. The feature itself is a time-saver since you no longer need to copy and paste items one by one.  You can simply integrate the Word content at the end of your brief or research document.
In your Lexbox account locate the research folder that you want to export a list of authorities from. While hovering your cursor over your chosen folder, a list of options will appear.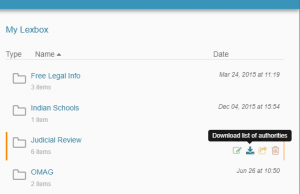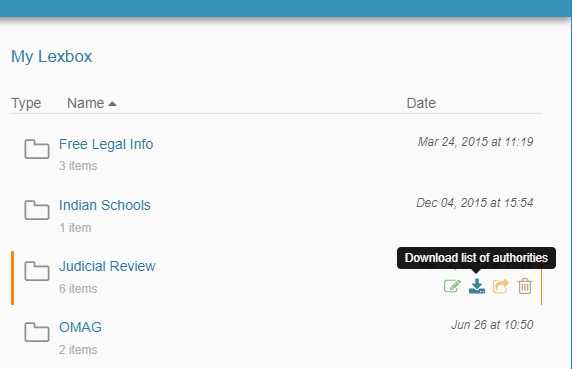 Click the blue button on the right hand side displaying the tooltip: "Download list of authorities". A corresponding list of authorities, in MS Word format, is then immediately downloaded to your device.