Lexum is pleased to announce its latest version of Decisia: Decisia 6.0.
NEW AUTHENTICATION SYSTEM
With Decisia 6.0, Lexum is upgrading its user registration technology to improve interoperability between its different products.
Improved Management of Users
With fewer fields to complete and the possibility of sending users a reset password email directly from the administrative interface, Decisia 6.0 makes it even easier to manage your Decisia users.
Organizations that use both the Decisia and Qweri platforms will now be able to see all of their users under the Users tab in the Decisia administrative interface. Qweri groups will also now be visible in the Decisia administrative interface.
New My Account Page
All levels of Decisia users now have access to a new My Account page to manage their account information.

More Intuitive Publications
When publishing a public document to Decisia, clients now select the publication status Public.
If a Decisia account uses personalized groups, Visible to is the second publication status option. Selecting this option will display the various groups available to the organization.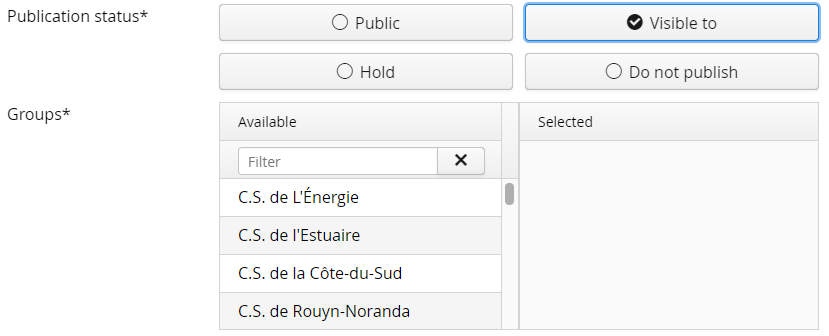 Otherwise, the second available publication status is Intranet viewers.

The Hold and Do not publish options remain unchanged.